Sticker Shock Is No Joke for Car Buyers
The average price for a new vehicle reached $47,077 in December 2021, which amounts to a 14% price hike in just one year. Perhaps more startling, the average price paid for a nonluxury vehicle was $900 above the Manufacturer's Suggested Retail Price (MSRP), otherwise known as the sticker price.1



Most people who have shopped for a new car in recent months can attest to the meager selection of available cars offered at sky-high prices. What's causing this madness in the new car market?
Limited supply and deferred demand. It's no secret by now that an ongoing global shortage of microchips has caused an industry-wide slowdown in the production of new vehicles. The chip shortage is generally expected to last well into 2022, if not longer, while demand for new cars is expected to remain strong. Moreover, the year began with an estimated 4.5 to 5 million consumers waiting in the wings to buy cars.2
Dealership pricing dynamics. With demand far outpacing supply, many dealerships don't need to offer the usual discounts and incentives. Another reason for higher transaction prices is that many of the vehicles available for sale are trimmed out with upgrades that boost dealers' profit margins. Some dealers have added exorbitant markups for high-demand vehicles, called market adjustments, that can result in prices that run thousands of dollars above the MSRP.
Before rushing into a contract for an overpriced vehicle, do plenty of research and take a close look at competing models that may meet your needs without breaking the bank. If your heart is set on a particular car, compare prices at dealerships over a wider map. You might consider ordering a vehicle configured to your specifications directly from the automaker for the stated MSRP, with no dealer markup.
---
Average annual price increase for a new car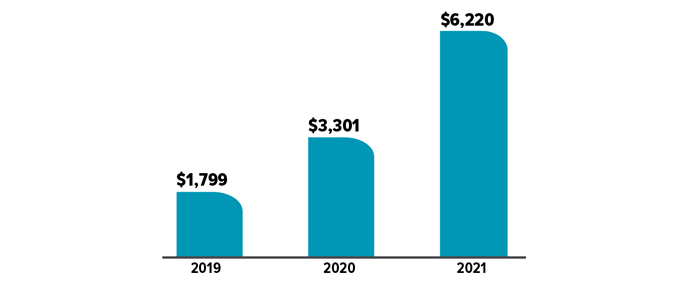 Source: Kelley Blue Book, 2022
---
It could be worthwhile to hold off on a car purchase until inventories normalize, but that may not be an option if you have a pressing need for transportation. For popular models, there's likely to be little room to negotiate on the purchase price. However, trading in your old car may help even out the deal, because many used cars are also fetching high prices. The average price for a used car surpassed $29,000 in December 2021, after a staggering rise of 27.9% for the year.3
If the lease on your current vehicle is ending soon, here's one last point to keep in mind. The contract's buy-out price — calculated years ago — is likely to be a better deal than purchasing a new or used car at today's elevated prices.